In this article I will explain how to create a blog for free on Google step by step .
As you know, the Google platform for blogs is free and is called Blogger (formerly Blogspot), and it is a good option to get started in blogging.
The creation and maintenance process is very simple, and for this reason it is such a popular platform. Big G has done a great job in this regard.
WHY AM I GOING TO TEACH YOU HOW TO SET UP A BLOG ON GOOGLE?
If you are a regular reader of this blog, you know that I think creating a blog on Google is not the best option if you want to get serious about your business.
What I have been observing is that many people are afraid to invest to create their own WordPress blog and they make excuses:
It is difficult to install, so I better not invest.

It is difficult to maintain, so it is better not to invest.

What if I don't keep up the publication rate later? I better not invest.

I'm not a designer, so I better not invest.

This is not going to help me in my business, so I better not invest.
The first thing I am going to tell you is that the investment to set up your own blog with WordPress is about $100 at most:
A 

domain name

 (at 

Namecheap

 you can find them from around $10/year).

A 

hosting or web hosting

  (at 

Webempresa

 , my trusted provider, you can get a hosting plan for around €79/year, with a 20% discount for being a follower of the blog).

Optional (but important) – A 

premium SEO optimized template
BLOGGER HAS ITS ADVANTAGES, THAT'S WHY I'M GOING TO TELL YOU HOW TO CREATE A BLOG ON GOOGLE
Nothing in life is black or white. The normal thing is that it is one of the multiple shades of gray.
Although Blogger is not my preferred platform, I started my journey in the world of blogs on this platform . That is why I think I understand the reasons that can lead you to opt for it.
The advantages that Blogger has, and they are actually the ones that have made me decide to write this article on how to create a blog on Google, are:
Easy to create and manage.

Lots of support and stability from Big G.

It's free.

It serves as skills training to be a good blogger.

In the technical section, I like it much more than the free WordPress blogs, because when it comes to migrating to your own blog with a domain and hosting, the import seems easier to me and of course it is cheaper (free).

You can preserve the ranking of your Blogger blog if you transfer it to WordPress with your own hosting.

Blogger connects with the entire Google network.

It allows you to include affiliate links and advertising (the free WordPress platform does not, at least until now).
STEP BY STEP…
After all this, let's get to the point, because I suppose that at this point, either you have already gone to set up your blog with WordPress, or you will be wanting to see how to create a blog on Google.
Well, you'll see how simple it is…
STEP 1: CREATE YOUR BLOGGER ACCOUNT
Go to www.blogger.com and you will see a screen like this: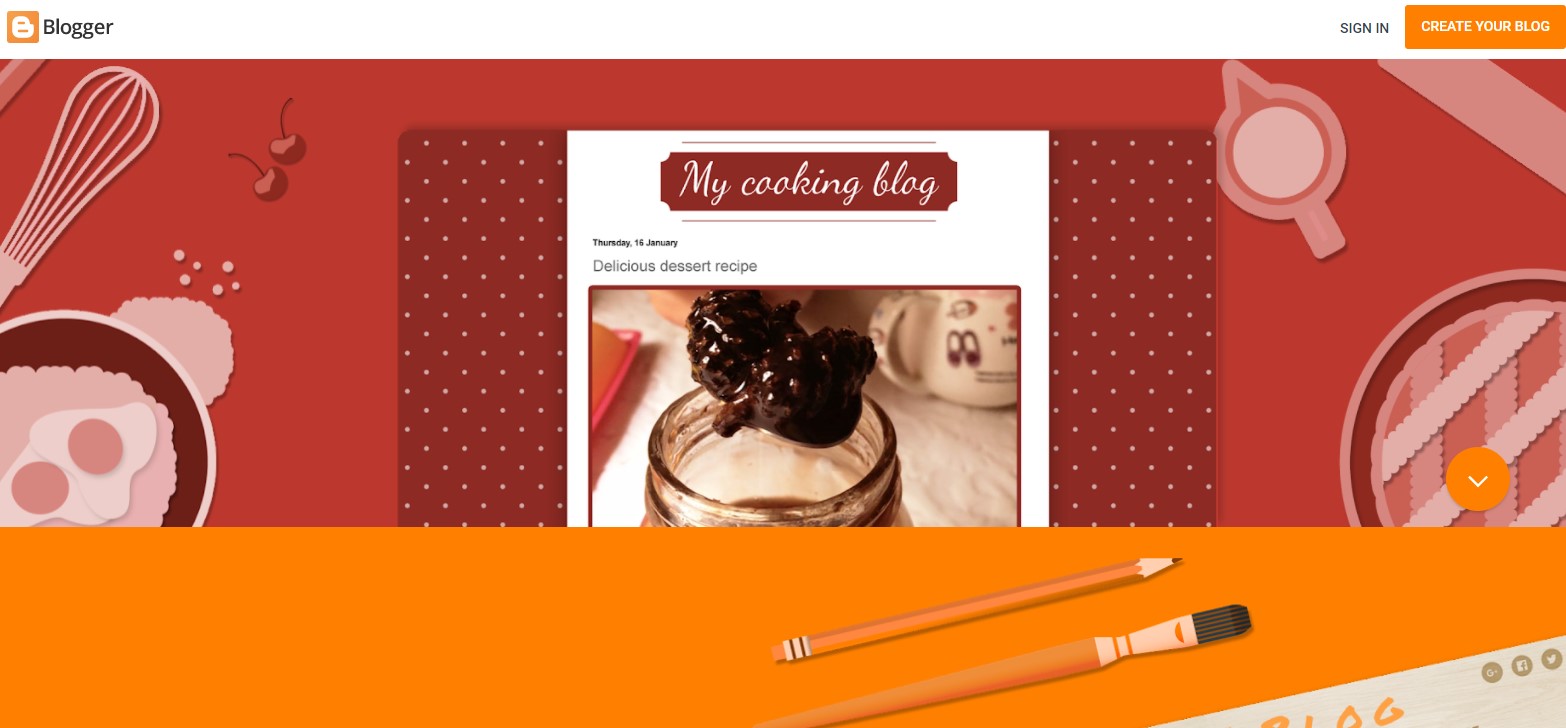 If you already have a Gmail account, just enter your email address and password. If not, you should go to the red button at the top right. Click and follow the steps. It is very simple. All you have to do is fill out a form.
STEP 2: CREATE THE BLOG
Once you have your account created, go back to www.blogger.com and enter your email and password. You may be asked to confirm your profile, and you can choose to create your Google+ or Blogger profile. This is to set the profile you want your readers to see.
My recommendation is that if you are going to work with Google+, choose this type of profile and configure it. In addition, having a Google+ profile connected to your blog (in Blogger or WordPress with its own hosting) will help you position it.
The next thing will be to create your new blog:
Click on "New blog" 
All that remains is for you to name the blog, an address that will appear as a URL (the system checks automatically and instantly if the address already exists or not) and choose a template.
STEP 3: START FIDDLING
Now it's your turn to investigate, test, write articles, upload photos, make mistakes and learn.
This is the best way for you to become familiar with the Blogger platform.
I have already taught you how to create a blog on Google. If you get the hang of it and find it useful for your business, you might want to switch to WordPress with your own hosting…